Managing data communication at inputs and outputs level in automated machinery systems. That's what IO-Link is for. It is economical, simple and efficient. Well… this being […]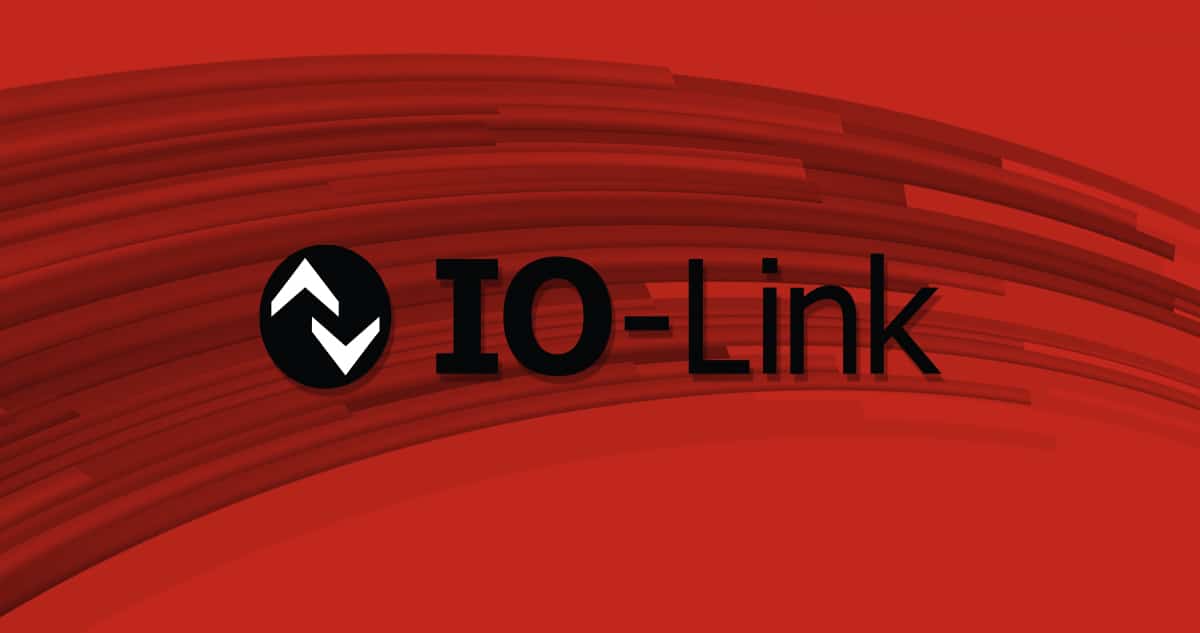 Managing data communication at inputs and outputs level in automated machinery systems. That's what IO-Link is for. It is economical, simple and efficient. Well… this being said… readers expect to know more. There is a lot of documentation on the use of IO-Link for the management of Input/Output traffic, but very little yet on its use in the motion control field. Not forgetting its actual limits in that field, this article gives some highlights about motion control applications of IO-Link.
Talk to IO-Link's users and ask them about its key points. Consistently, you will hear about the fact that this is a simple and robust solution, economical all over the life-cycle of the machine, easy to integrate, that it is simplifying installation, and commissioning, as well as usage and operation, that it is enhancing maintenance… By the way, IO-Link is very suitable for simple motion applications, and this is particularly what we want to mention here. But first, let's see what is the IO-Link.
Not a fieldbus… Universal… Ready for Industry4.0…
In reality, IO-Link is a standard – the IEC 61131-9 – specified by the IEC international organization. It specifies a Single-drop Digital Communication Interface – SDCI – for small sensors and actuators. Whatever the controller (and the industrial-data communication protocol – fieldbus) which is used for the automation of the system, this "part 9" of the "IEC 61131" standard specifies a unique and universal SDCI technology suitable for applications using small sensors and actuators (which are so largely used in machinery). Yes, the IO-Link organization is a member of the PROFINET consortium, but the users do not have to adapt their sensors/actuators system (connectors, cables, hardware devices and software) to any specific fieldbus protocol. As often heard, "IO-Link is a universal cross-protocol solution" and fits into any architecture based on Modbus, PROFIBUS, EtherNet/IP, AS-I, etc.
Its goal is simple and clear: extend the traditional digital input and output interfaces towards a point-to-point communication solution (whatever the fieldbus which is involved at the PLC level).
On the field, over the last meters running through the heart of the machine (down at the sensors and actuators level), this technology supports bi-directional transmission of process-data, service-data and events. For both masters and devices, it is based on a protocol specified in accordance with the ISO/OSI reference model (physical layer, data link layer and application layer). It enables the transfer of control data and parameters down to devices, as well as the delivery of process data and diagnostic information from the devices up to the automation system.
Physically, IO-Link is based on a simple, robust and proven-for-long technology: the classical 3-wire connection used for the simple sensors and actuators, without any additional requirements regarding cabling. In the words of its promoters, it is "the further development of the existing, tried-and-tested connection technology for sensors and actuators." And it does not cover the need for communication interfaces and systems based on multiple point or multiple drop linkages. This said, IO-Link is by essence used in factory automation, and it is largely used with simple sensors and actuators, in applications which include small and cost-effective microcontrollers.
In other words, one of the key benefits of the standard is that the sensors/actuators (inputs/outputs) level can remain the same, whatever the higher-level controller of the machine and/or the controller of the complete automation system. This leads to less design and engineering hours, to lower number of repair and spare-parts to keep in stock, to less "knots in the brain" and more peace of mind. The fact is this standard is universal and easily enters many applications!
As some users say, "IO-Link is revolutionizing communication at the field level." Data from all levels of the machine and of the complete system is made available, entirely in line with Industry4.0 strategies. Being Industry4.0 ready brings today – and will definitely bring in future – the potential for implementing improved (and even completely new) machinery functions. Better and more economical production technologies are already anticipated for future with IO-Link. The fact is that this standard provides and guarantees long-term investments!
Economical… Easy to integrate, implement, use, diagnose and maintain…
IO-Link is cost effective. Before going on the field with the material and physical solution, it helps for reducing the number of engineering hours, shortening the design studies, reducing the preparation of the commissioning. When arriving on the field, the commissioning itself is faster. As mentioned above, IO-Link uses standard cables. It also helps reducing spare-part inventories notably thanks to intelligent multi-purpose devices.
IO-Link also simplifies diagnosing the sensors/actuators network, and organizing maintenance campaigns. Expanded diagnostics functionalities allow for remote diagnostics down to the field-device level, for cable break detection, and for device-specific diagnostics using IO-Link. And because it is simple and robust, easy and fast to maintain and repair, IO-Link contributes to increasing the runtime of the machinery systems. Typically – and not going too deep into details here – each field-device is described via an "IO Device Description" file (IODD). This file contains information such as the manufacturer of the device, its model number, serial number, the device type. It also contains parameters related to the application. These parameter values can be changed remotely (via the master), and so the machine can be adapted remotely and on-line, in order to fit the next coming production batch. At the same time, while parameters of a link are residing in the master (hardware), these parameters can also be reset, adjusted, modified dynamically during the production process. And if a master unit needs to be replaced for whatever reason, it simply requests pre-configuring (in the office or in the lab) and replacement (on the field). In such cases, it is just a "mechanical change" to operate in the cabinet of the machine. Powerful, isn't it? And Easy.
In summary, IO-Link is factory automation and machinery oriented. Innovative IO-Link machine-concepts ensure simplified installation. It standardizes interfaces and cabling systems (parallel, analog, digital) to a unique type, and modular-machine concepts are inherently supported. Function modules and tool-assistance allow for a highly automated parameter setting. This leads to faster and easier tasks from design to commissioning, and maintenance.
And, of course, all these simplifications dramatically lead to the reduction of documentation and of training costs.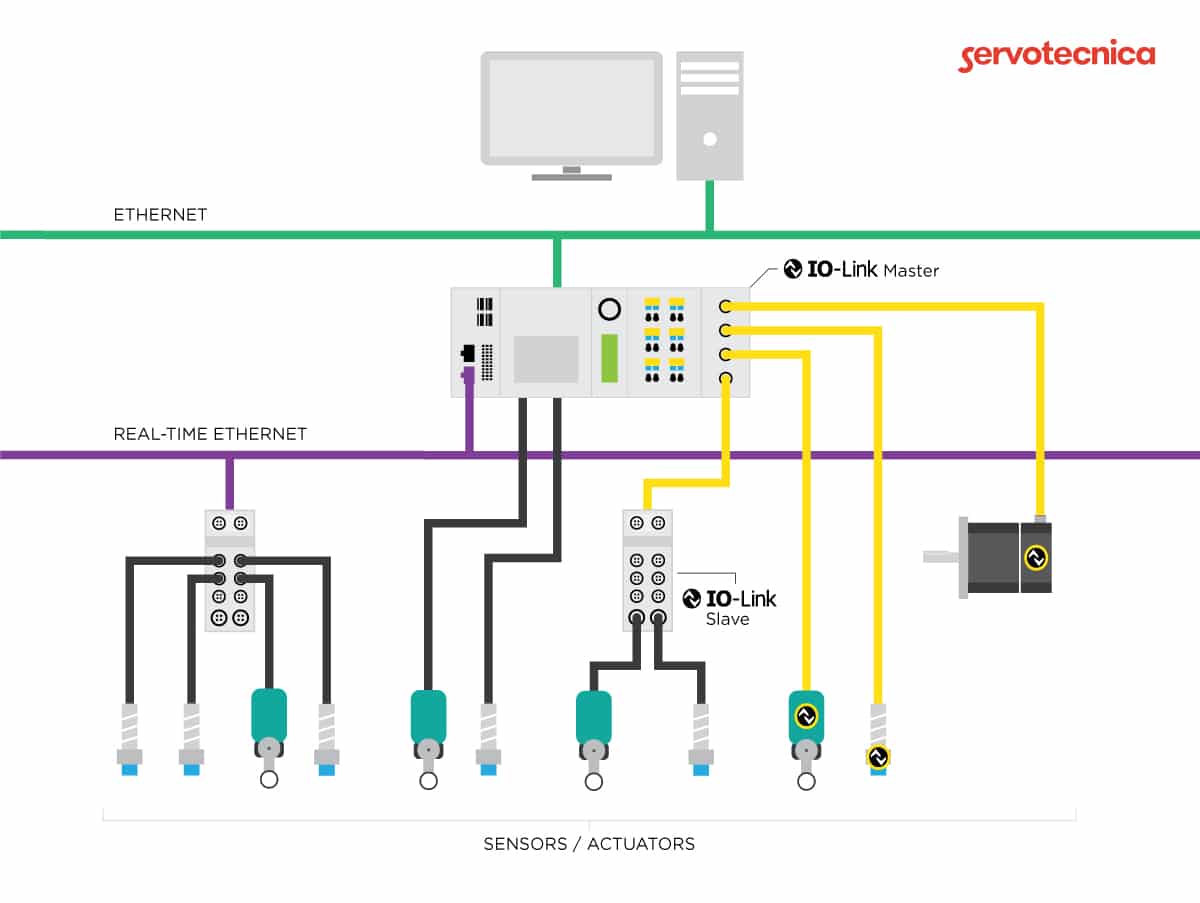 Motion Control
Quite a lot of information is available for typical IO applications. Much less easy is to find something to read on applications for motion control.
Well, from technical literature producers point-of-view, motion control is of great interest when it comes to advanced motion control applications dealing with high-speed and/or cycling positioning… and/or applications typically requiring a lot of interpolation calculations… and/or applications involving electrical gears and/or cams…
But on the other side, while motion control manufacturers and vendors can serve those complex applications, many users simply look for designing simple applications. Here, as IO-Link supports only quite slow automation cycles, it can perfectly serve such applications.
In those applications, sensors are measuring and controlling process values and parameters such as: angles, distances, frequencies and pulses, levels, positions, pressures, rotation or slide counts, rotational or linear speeds, temperatures, etc.
Measurement ranges and thresholds have to be set variably according to various production batches. While those changes used to be made manually (with the risk of human error to be handled and corrections to be managed), IO-Link allows for them to be set remotely. An IO-Link master is capable to recognize the connected sensors, actuators, displays. Before running a production, it will check for the configuration parameters of all the devices. While not complex in terms of speed or interpolations, many motion control applications get a lot of parameters involved. And there, the dynamic setting of the application shows a real benefit.
The global machine market is hotly challenged. Competition is high! In such a contest, the jury is composed of… the users! And users look here for reliable machines. And they expect that these machines can quickly pay for themselves.