For more than 15 years, AMK has been offering automation solutions now proven thousands of times in the field. Customer experiences continue to enrich this brand's […]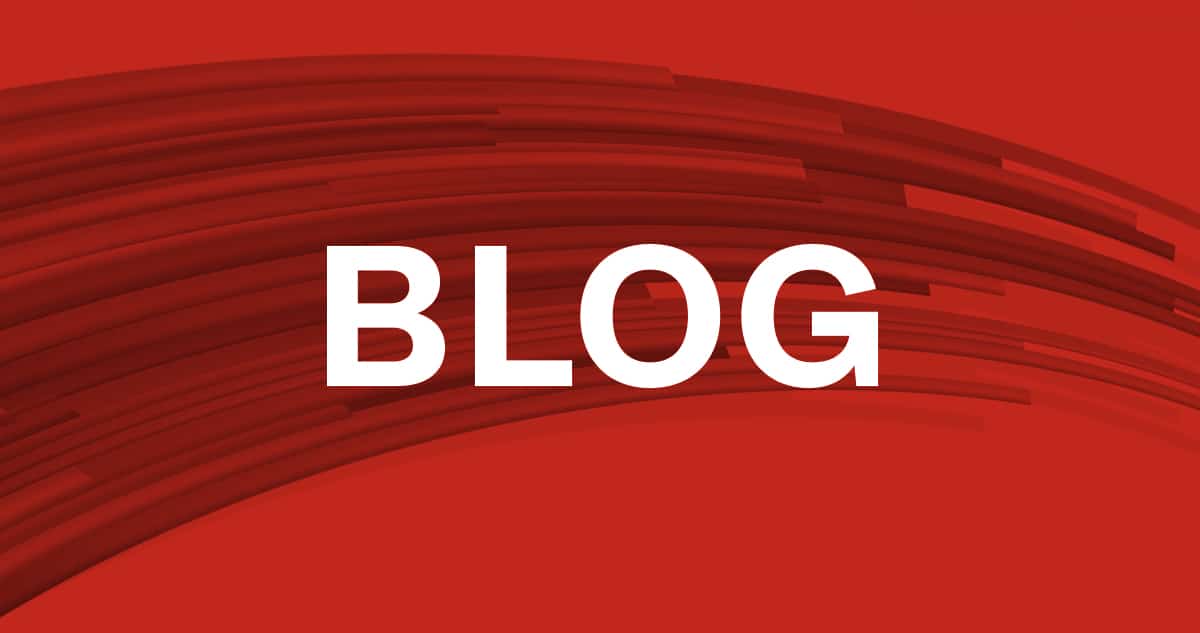 For more than 15 years, AMK has been offering automation solutions now proven thousands of times in the field. Customer experiences continue to enrich this brand's product portfolio and enable it to offer state-of-the-art technologies that are pioneering in the industry.
Today, machine manufacturers face major challenges; the market demands very fast reaction times, and increasing competitiveness leads customers to evolve constantly, and as their needs evolve, so do their requirements. In this climate of turmoil, it becomes critical to offer the user greater flexibility while simplifying systems (someone used to say, "Make it simple, don't simplify").
Ensuring such output to automation solutions and their components requires high standards, designed with the same flexibility and consistency as the machine that houses them.
Systems with distributed drives and strategies based on these platforms meet this requirement.
AMK has been a pioneer with decentralized architectures. Today, this translates into a broad decentralized "field" product portfolio, allowing OEMs to choose from a wide catalog of distributed solutions, enabling them to complete modular solutions: from controllers/PLCs to decentralized drives to integrated servomotor + drive units, all in a wide range of power and size.
Decentralized controller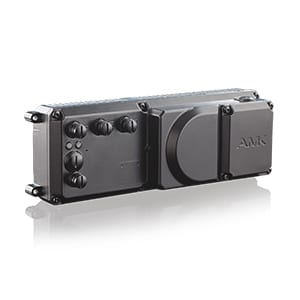 In addition to the motion control/PLC capabilities, the decentralized iSA controller with IP65 protection offers an integrated power supply designed to deliver 5 kW of power by requiring only 3×400 VAC for generating the DC BUS dedicated to powering the servo drives.
Applications with up to 36 drives have already been realized with the iSA controller (EtherCAT master), which can be used as a gateway for Ethernet/IP, ProfiNET, and EtherCAT slaves.
With its computational power, the iSA Controller/PLC forms the basis for realizing complex motion functions and multi-axis PLC/MOTION projects.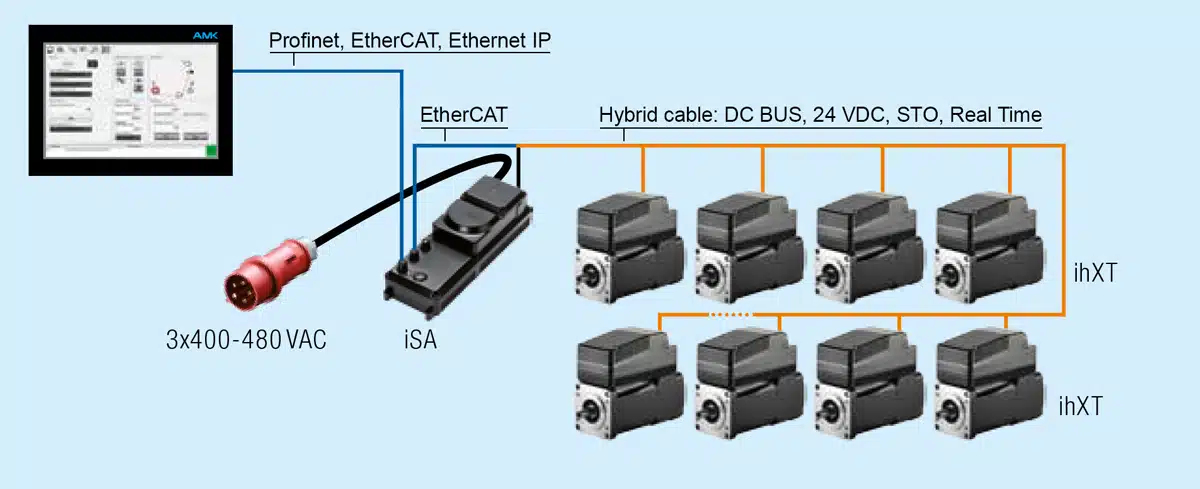 Decentralized drive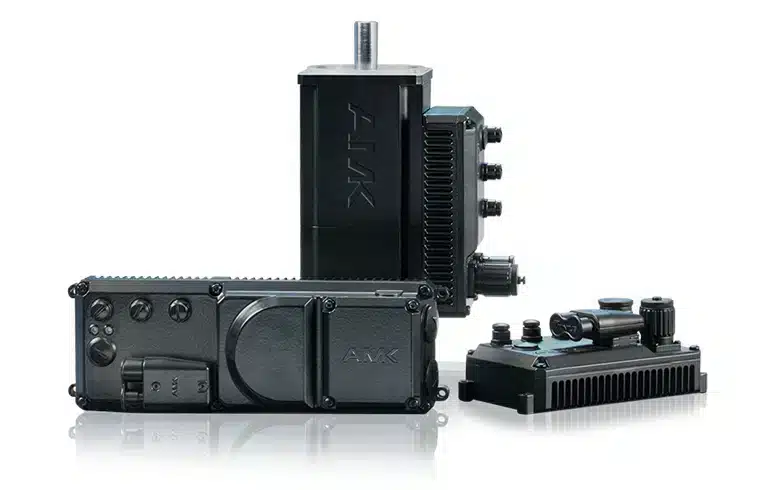 The iX decentralized drive has IP65 protection and delivers continuous power up to 5 kVA (8.2 Amp continuous and 16.4 Amp peak).
When decentralized drives are installed in a machine module, and other modules make up a complete production line, the wiring architecture also changes: the motor cables (power and encoder) no longer have to be stretched from the control cabinet to the servomotor. In contrast, power and real-time Ethernet cables run from the power supply to the first drive and so to the next.
The advantage of this type of daisy-chain wiring is particularly evident on moving machine modules or rotary tables, where multiple drives are installed, thus reducing the cable carrier chain to just the power supply line.
Another significant advantage of daisy-chain wiring is that all drives are connected by the same DC BUS. In this mode, the energy required, and that regenerated in the different phases of operation, are balanced, allowing optimal energy utilization.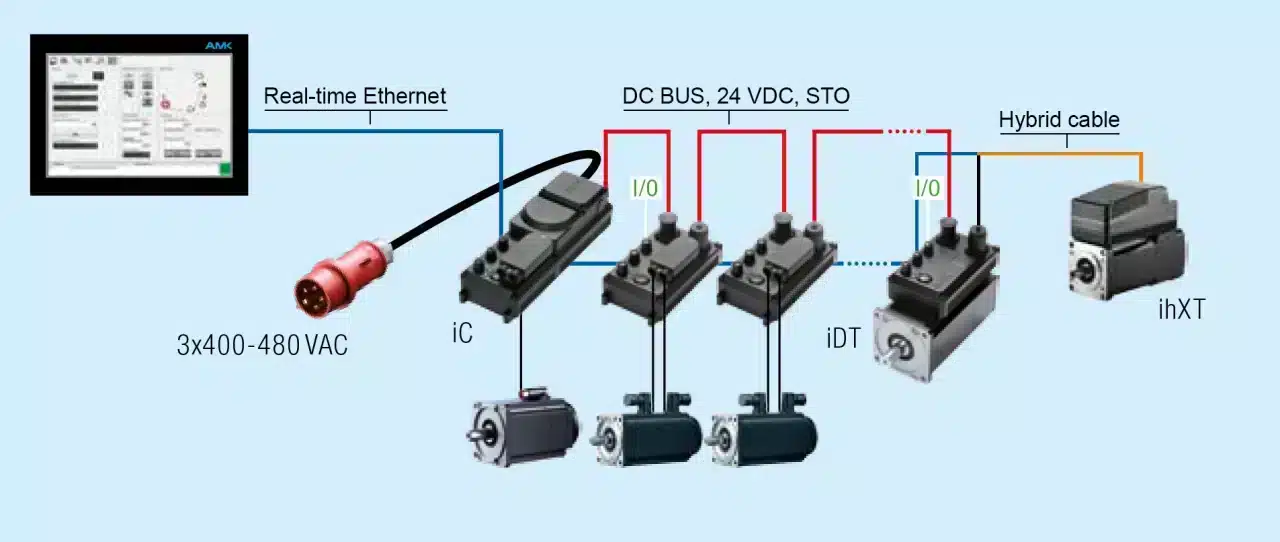 Servo controller integrated into the motor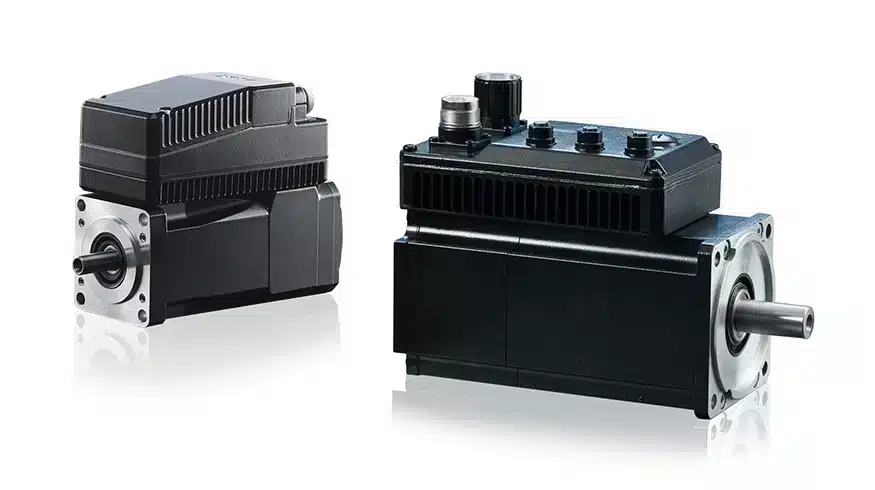 By eliminating power cables to the motor and encoder, servomotors with integrated drive offer the greatest potential savings. Solutions with the driver integrated into the motor are available in various flange sizes from 55 mm (ihXT series) to 100 mm (iDT5 series), each with different lengths available.
AMK decentralized systems offer excellent reliability even in hostile environments and harsh applications, thanks to their high resistance to shock and vibration and IP65 protection rating. Regarding safety functions, STO is integrated as standard, while other safety functions, such as SS1 and SS2, can be implemented via FSoE.
The wider the choice of different control or drive modules, the greater the freedom to realize machine models. The decisive element is to find the most suitable configuration for each application.
Of course, in the IIOT era, the possibility of integrating system peripherals going as far as cloud systems and mobile access through apps has become an important feature.
Confirming AMK's reliability, expansions are available that can be easily integrated into existing systems, supporting sustainability, high operational lifetime, and maintenance of system value over time.